Simply a Revolution in Back-Pain Relief
97 out of 100 BackMaster users keep it for life!
BackMaster fits in a purse or brief case. These pain-relieving devices can be used sitting up or lying down. Use anytime back pain occurs: at work, traveling, in bed in the middle of the night or at anytime when a doctor may not be available. With BackMaster, you will once again have the freedom to do the things you enjoy without worrying about the recurrence of back pain - day or night. BackMaster relieves back pain like nothing else you have tried or your money back.
"I'm so confident you will find BackMaster to be everything our customers say it is, that you can return it within 30 days for a full refund if not completely satisfied. No questions asked!"

-- Conrad Speece, D.O.
Order now and experience for yourself what BackMaster can do for you or someone you know with back pain:
Use In Between Doctor Visits

Get Relief in Only Minutes

Non-invasive & Safe

Releases Muscle Spasms & Joint Restrictions

Relieves Back Strains and Sprains

Portable & Durable

Makes a Great Gift

Discounts for Volume Orders

1. What is BackMaster and How does it work?
BackMaster is different from other back pain treatments because it treats the cause -- not just the symptoms of back pain. BackMaster works to break the Cycle of Pain!
Are you caught in the Cycle of Pain?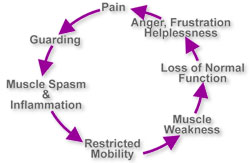 Your body responds to back pain by trying to protect the injured area and compensating for the discomfort (guarding), often forcing other parts of the back out of alignment. This protective process leads to muscle spasm, inflammation and reduced mobility, and more - not less - pain. As your pain increases, you are able to do less and less, your muscles become weaker and you lose the ability to function normally, leaving you feeling angry, frustrated and helpless.
"This note is to let you know how grateful I am to have found out about your product. I had chronic and debilitating back pain for years. The BackMaster was recommended to me by my doctor about a year ago and since I use it on a regular basis and I no longer have the back pain.

When a company makes a superior product and does what it claims to do. I think they deserve the recognition from the customer. Thank you!" -- Janet H. Longo, Dallas, TX
"The most important benefit of the BackMaster is it's effectiveness in relieving pain. I find it simple to use and convenient to carry when traveling.

I went to a variety of chiropractors and tried different forms of therapy. With the BackMaster I was able to treat myself in between doctor visits. It literally kept me walking because there were times when I absolutely could not even get out of bed and I could treat myself at home even if my husband was not at home to assist me. It kept me from literally being disabled and having to retire.

I wasn't sure that I could use it and I was very concerned what would happen if I used them incorrectly. I soon discovered that was not an issue at all and that they were in fact very easy to use and they weren't uncomfortable.

There are no way words that can adequately express the change BackMaster has made in my life."-- Ginger Key, Denton, TX